Weather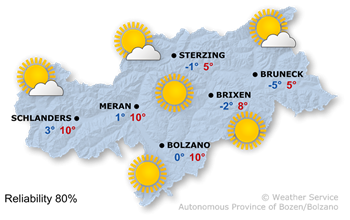 High pressure with northerly currents over the Alps, stable conditions.
Sunny weather in the whole region with some clouds towards the evening.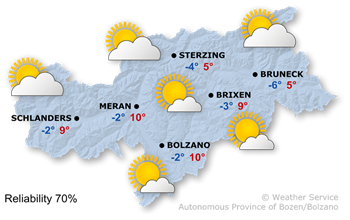 Northwestern currents will bring humid air masses to the Alps.
Sunny weather on Wednesday in the South, changeable in the northern parts.
2023/02/02
2023/02/03
2023/02/04
2023/02/05

2°/8°

-6°/0°

4°/13°

-4°/3°

5°/13°

-2°/3°

5°/13°

-5°/3°

70%
70%
70%
70%
On Thursday more clouds with snowfall in the northern parts of the region. Less snow showers towards the South. On Friday weather improvement, residual snowfall in the North. Partly sunny weather on Saturday in the southern regions, more clouds in the North with light snowfall in the Northwest. Sunday sunny with Föhn wind.